Simon Gogerly.
Grammy Award Winning
Mix Engineer.
Background
Simon Gogerly is a British mix engineer who has worked with everyone from P Diddy through to U2 and Paloma Faith. Starting out at one of London's biggest recording studios, Mayfair Studios, Simon quickly rose from an assistant engineer to a world class recording and mix engineer. Now based out of his private SSL Mix Room in rural Essex, Simon continues to work with some of the world's largest artists whilst also working on projects for smaller, unsigned acts. We went along to his studio to chat to Simon to hear about how he rose through the ranks of the recording industry and to get an insight into his work.
Selected Discography
| Artist | Record |
| --- | --- |
| Paloma Faith | Fall To Grace |
| Underworld | Barking |
| Athlete | Somewhere Beneath My Skin |
| U2 | How To Dismantle An Atomic Bomb |
| Gwen Stefani | Love. Angel. Music. Baby. |
| Texas | The Hush |
| New Order | Republic |
| Massive Attack | What Your Soul Sings |
| The Farm | All Together Now |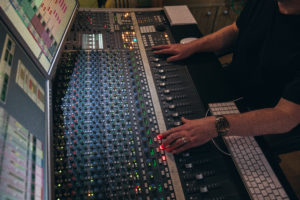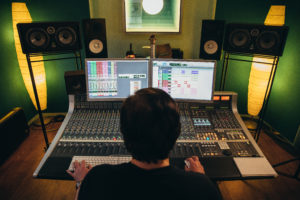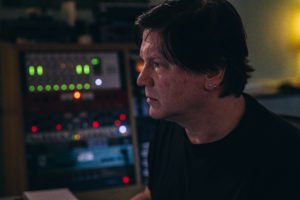 Lets start at the beginning Simon, you started as an engineer at Mayfair Studios, what drove you to enter the studio world?
It was a change of career for me actually. I had trained as a theatre designer and worked in that area for a few years and even though I had achieved some success I had reached a bit of a dead end. In the meantime I'd been in a couple of bands and had discovered a big interest in recording and midi programming. I got a job with one of the studio equipment hire companies (Audio Rents) and spent a couple of years getting to know the London studio business and personnel. Our office was around the corner from Mayfair Studios and I made friends with the engineers there. When an assistant engineer vacancy came up they put me forward for it. Even though it meant a huge drop in wages I jumped at the opportunity.
What were the most important things you learnt training under John Hudson?
John is a very technical engineer in that he knows the internal workings of all the gear, a product of his BBC background no doubt, so I learned a lot about that kind of stuff, some of which stuck! But the main things I got from him were the discipline and attention to detail. He always said that the assistant engineer should be the person who knows the most about what's happening in a project, from technical details like recalls and tape labels through to the band's food preferences and where to get a taxi at 3am. Current training misses all that stuff out because it's a bit boring but it filters through into how you approach your work. I'm not especially organised out of the studio but I am when I'm working and I got that rigorous approach from John. A lot of his assistants couldn't cope with his demands and he gave me a hard time on a few occasions but I learned from it.
One of your early mixing hits was 'Altogether Now' by The Farm, how did this come about and what was it like working on such a huge song?
It happened quite by chance actually. I was still fairly inexperienced at mixing at that stage but I was the only in house engineer available for the session. My best mate at Mayfair, Noel Rafferty, had been recording the track but he had to go to a wedding at the weekend. The deadline to deliver the track was the next Monday so I stepped in and mixed it over the Saturday & Sunday. It was pretty stressful but the band and producer (Suggs) left me to it most of the time so I could go at my own pace. I didn't know it would be so huge. The band had one hit under their belt but I don't think anyone expected it to be the big Xmas hit that it became. I knew it was good when I was mixing it but I only realised how successful it would be when I heard it on Radio 1 a couple of weeks later – it was a really fast turnaround.
Working in the 80's you worked through a period of time which many regard as a golden era of recording, a time of big budgets and massive selling records. Do you have any stand out stories from this era?
Loads of stories! I think I worked on around two hundred different projects during my four years at Mayfair and some were pretty crazy. Professionally speaking it was great to get to work with some amazing engineers like Bob Clearmountain and Michael Brauer but I guess the session that really summed up the era in so many ways was the Tears For Fears album 'Seeds Of Love'. I worked on the last two weeks of the album mixes and even though the album had been three years in the making they were still agonising over the tracks and recording more overdubs. It was hugely complicated in every way. We were running two 32 track Mitsubishi digital multitracks and a 24 track analogue machine, all synced with each other and extra programming gear like Fairlights. The album was being mixed in Mayfair 2 which had the biggest SSL console available in 1989 (a 72 channel G Series) but we ran out of channels and had to hire in an extra console just for FX returns. When I had to set up a song recall it would take a whole day, they were so complicated. Although they were spending a fortune on studio time and hire gear (the album cost over £1 million to make) they kept changing and adding parts almost to the last day. We were even doing vocal overdubs during the mixes. It was all quite fraught – they didn't work together for a while afterwards. However, it was a huge hit and a great album so the product didn't suffer from all the problems.
In 1992 you went freelance, how did it feel going from a 'regular' job in a studio to this?
It was scary but I wasn't too worried. A couple of the producers that I had worked with at Mayfair had said that they would use me on their projects. They were good to their word but it took longer than I expected. With hindsight it's good that I wasn't aware of how difficult it would be because I probably wouldn't have done it. As it happened Mayfair went under for a while a couple of months after I left so it looked like I'd planned it perfectly, but it was a complete coincidence. At that time I didn't have to worry about a mortgage or kids so it was good timing….I had to cope on very little for the first few years.
We're in a time now when more and more engineers want to go back to more analogue recording, what was it like seeing the transition from 24 track analogue tape to digital workstations like ProTools. Was this something that you think helped engineers and musicians?
The transition was fairly gradual. When I started we were just getting into digital multitrack tape but most sessions were still all analogue. There's no doubt that the rise of DAWs has made life a lot easier in some ways – huge track count, easy editing & pasting etc. but they weren't easy to integrate early on. We used to have huge amounts of downtime due to sync problems and computer issues. The last few generations of DAW have been pretty solid so they're a pleasure to use now rather than a chore. There are mixed blessings to having every option open though; it can lead to laziness and a lack of decision making on the part of producers and musicians. There's a certain discipline required when you're restricted to 24 tracks with no editing…..
When you started making and releasing music for non professional musicians was a much bigger challenge than it is today, how do you think this has affect the quality of music released?
I'm not particularly nostalgic but I kind of miss the time when a lot of the rubbish was filtered out by the business. There's still a lot of quality out there but it now has to fight to be heard above the piles of drivel that would never have been released in the past. Cheap and easy technology can be used very creatively in the right hands but it can also be used by the talentless majority. So, I don't think the quality has reduced; it's just a lot harder to find.
What do you think the biggest challenge is that is facing the music and recording industries today?
Finding new ways to monetize music is a big challenge. Keeping track of royalties has always been hard work and now that a lot of music income is royalty based it's very difficult to police, especially with emerging markets. Publishing income is become more and more important so I think we'll see studio professionals in the future having publishing deals and negotiating writing splits.
You worked with Underworld on tracks for the London 2012 Olympic Games, how did you get involved in this and what was the process like?
I had already worked with Underworld on a few projects including the National Theatre production of Danny Boyle's Frankenstein so it followed on from that really. Having worked with Danny already made it easier to integrate as it was such a huge project. I got involved very early (around October 2011) recording drums for the Industrial Revolution section and doing stem mixes for the forthcoming tracking sessions at Abbey Road. The whole thing was very secretive of course – I had to say we were recording new Underworld material. I also did the bulk of the mixes for the athletes' parade. All those were done in the last few weeks – I had some all nighters!
How did it feel hearing your mixes being played to such a unimaginably large audience?
When the opening ceremony happened I was pretty exhausted so it was hard to take in at the time. I was just lying on the floor feeling relieved that nothing major had gone wrong and quietly cursing the BBC broadcast mix….. During the games I felt really elated and proud to have been involved.
What are your thoughts on the recent trend towards using more and more vintage equipment?
I think it's fine, I just feel it's missing the point slightly. It seems that some people think that the secret to making the great recordings of the past was the equipment. There were a lot of other factors involved too – the writers, the musicians, the producers & engineers, the studio environment & everyone's training. A lot of money was spent on those recordings and they were made quickly precisely because they cost so much – everyone really had to be on top form. I personally prefer 'modern vintage' manufacturers like Thermionic Culture. Their stuff sounds great and is less likely to break – and if it does, you can get it fixed!
What's the biggest mishap that you've faced in the studio and how did you overcome it?
There isn't much you can do about technical mishaps, I've had power cuts, equipment breakdowns, even a desk power supply meltdown which left the machine room full of smoke. You just have to call in the maintenance troops! I was once recording guitar overdubs onto digital multitrack and the machine was switched to digital input rather than analogue; my assistant's job but I should have checked – I didn't know because I was monitoring the guitar through the desk rather than the machine. When I played the take back I just heard a shaker…! A friend of mine once recorded tones over a multitrack thinking that he was on the record pad – unfortunately for him he was on the wrong bit of tape – a very expensive mistake!
You've done a lot of work with hip hop artists in the past, what was it like working on these sessions compared to more traditional bands and pop groups?
A lot of hip hop stuff was very simple at that time; a beat, a sample & some vocal tracks. It's since developed into something more sophisticated. I worked on a lot of New York hip hop remixes. We just kept the vocal and made a whole new track. I liked the simplicity of the process and it was very quick & creative. We got a multitrack from L'il Kim and Notorious B.I.G. – it only had about 8 tracks of audio but was brilliantly put together. When we were working on it was when the news of B.I.G.'s death broke.
Throughout your career you've worked alongside producer Nellee Hooper, how did you end up engineering for him and what has been your favourite project to work on with him?
I've known Nellee for most of my career. We first worked together at Mayfair. I was assisting Howie B on a lot of sessions and they worked together regularly so I got to know him from doing remixes for the likes of Massive Attack and Mica Paris. Nellee was still involved with Soul II Soul at the time and I got to mix one of their singles (Missing You) when Howie wasn't available for some reason. When Nellee set up his own label in 1999 he got me in to mix material and I've ended up mixing for him from then on. I think the most enjoyable project we did was recording with No Doubt for the album Rocksteady. We had them all in for a couple of weeks. It was really productive, they were great fun and it also led to us working on Gwen Stefani's subsequent solo material.
Whilst working with Nellee you won a Grammy for your mixing with U2, how did it feel being nominated and subsequently winning this?
I actually didn't know that I would get an award, even when Nellee told me that we'd been nominated twice (for U2 & Gwen Stefani's albums). He had to explain that if an album won in the 'Album Of The Year' category then the producer(s) & engineer(s) all get an award. I didn't really think about it until I got an invitation to the awards in LA. I wasn't going to go – it was a lot of time & money to get there – but my wife persuaded me, rightly saying that it was the sort of experience that I'd be crazy to miss. I managed to hook up with a few friends over there so I had a good few days partying but I never expected to win, even though we were nominated for two out of the five albums. When they read out our names I was in shock – then I had a 20 row dash to the stage. Afterwards they take you backstage and we all had some bubbly in the band's dressing room, nattered to Paul McCartney & Nicole Kidman, then couldn't find our way out of the building – very Spinal Tap!
In your studio you have a large collection of equipment from high end gear all the way down to more affordable pieces such as your TC Electronic reverb units. Do you think engineers have become more focused on gear and not just focusing on what sounds good?
I think we all go through a stage of thinking that we have to have the latest thing or a special box before considering how much we'll use it. I've certainly made a few purchases like that over the years. I only buy something now if I think I'm going to use it regularly and it'll improve my sound & workflow. You generally get what you pay for but expensive equipment isn't always the answer. Sometimes a cheap & nasty bit of kit might be exactly the right sound!
As budgets have changed and deadlines have got tighter over the years, along with the opportunity to constantly tweak mixes, have you had to change your workflow to adapt to this and if so how?
Absolutely. There was a time when I'd have the budget (and therefore the time) to spend as long as I needed on a mix. Most of that time involved feedback and tweaks, the initial mix doesn't usually take me very long. Now I have to hop between projects and mixes much more often than before – it's just not practical or economic to work on one thing at a time and wait for feedback. The consequence of that change is that I'm going into the box more than I used to. I still like analogue mixing but now I'll stem out the mixes and tweak the stems, it's quicker that way.
You work on music from lots of different genres, do you find it easy to quickly jump between different styles of music and how do you adapt to this?
I actually prefer to work on a variety of material. I think it keeps things fresh for me and I can bring greater objectivity to each project as a result. I've always had pretty wide ranging tastes in music so I hope that I can appreciate anything that I work on and give it the attention that it deserves. Of course it's impossible to love everything but I like to think that I put full effort & professionalism into every project I do.
With so many tutorials, articles and instructional videos on all aspects of music production available now there is almost an information overload, to make things simple, what do you think is the one key piece of advice you could give for any mix engineer today?
It's good to have all that information so easily available. I kind of wish I'd had that when I was learning but maybe I wouldn't have worked so hard on my own technique. One thing I've heard more than anything else over the years is that there are no rules when it comes to music production so you have to make up your own – and never give up!